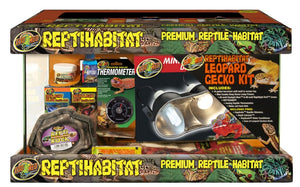 Christmas Pre Order Special!  From now until

 

Christmas prepay and we will call you once it's ready for pickup.  Once it delivers you must pick it up within 24 hours ... if you don't pick up within 24 hours a holding fee of $10 will apply at pick up. 
The ReptiHabitat™ Leopard Gecko Kit includes everything you need for your Leopard or African Fat-Tail Gecko. This 10 gallon terrarium kit takes the guess work out of setting up the proper habitat for desert geckos.
You will need to add:  leopard gecko, cricket keeper, cricket food and 4 dozen appropriately sized crickets
Local pick up only