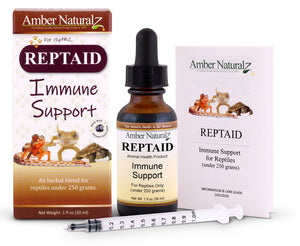 Reptile Immune support for reptiles under 250 grams promotes immune function.
 Antioxidant Support
 Natural purification of foreign contamination
 Supports upper respiratory functions
 Maintains eye & mouth health
 Promotes Immune Functions
 Promotes appetite & vitality
Reptile Immune is packed with antioxidants to help support a healthy immune system. When reptiles are exposed to certain elements or environments, this can cause immune fluctuations. Reptile Immune helps with:
 Immunity
 Upper respiratory functions
 Eyes & mouth health
 Natural purification of foreign contaminates
 Bodily energy
 Healthy digestion
Reptile Immune works to maintain a healthy immune system to keep your reptile in peak condition. For reptiles 250 grams or more, use XL.